In the screener tool, you can use our predefined criteria for finding the best stocks or set the criteria yourself. Let's cover the latter.
This is the basic view of the screener tool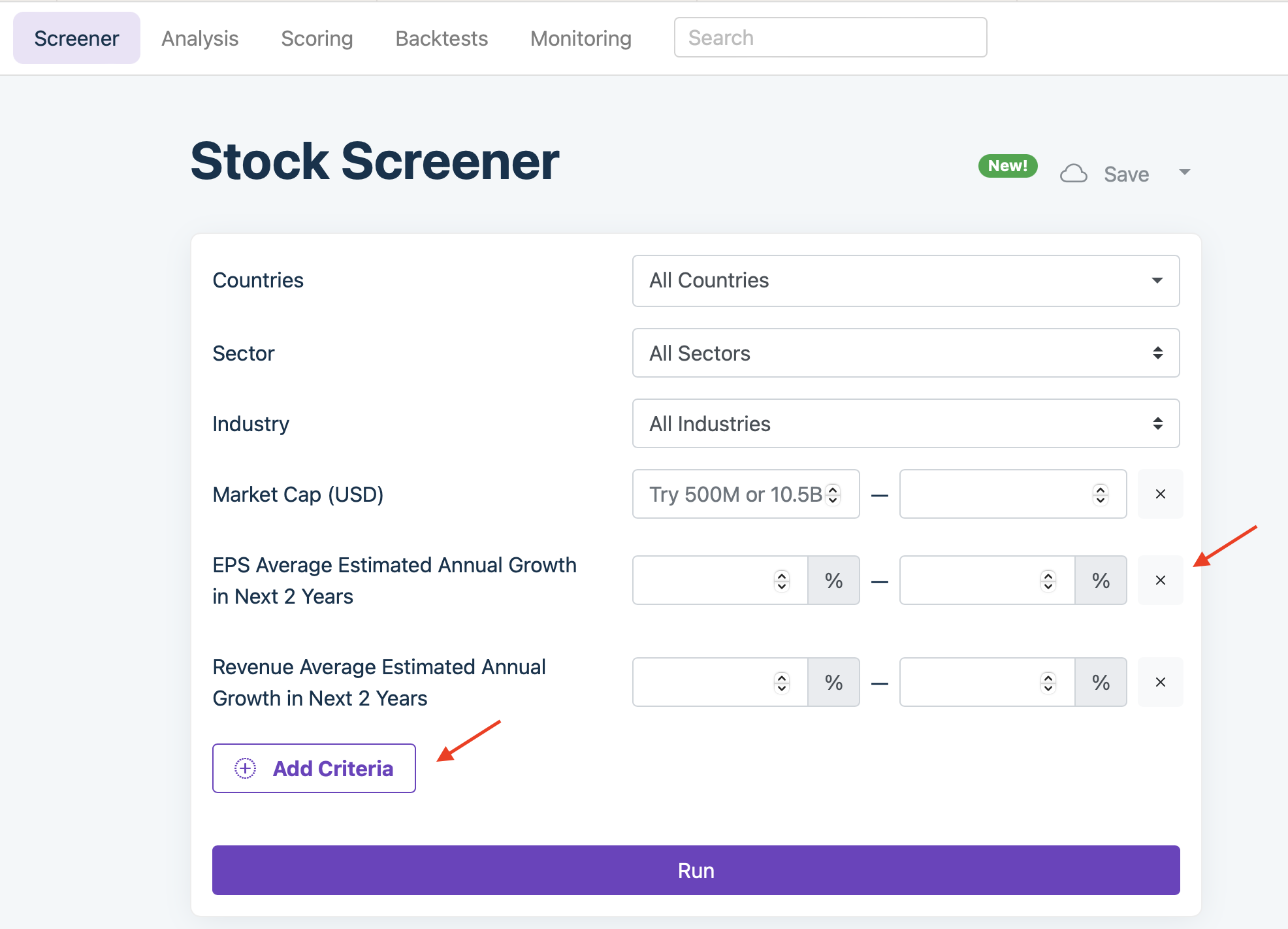 Countries, Sectors, and Industries are mandatory fields, but you can leave the "All" selection in these cases so the screener goes through all companies in our database. Alternatively, you can select one or multiple choices in the first three fields if you want to narrow your search to particular countries or sectors.
Market Cap, EPS, and Revenue Estimates are the default criteria. Keep in mind that these are not our recommended criteria or anything like that. We just used them to show you something here, so feel free to keep them or delete them by clicking the X button on the right side.
Add Criteria purple button is the big deal here because you can use it to set up your own criteria based on technical or fundamental indicators. You can use only one or one hundred criteria bundled together. It's totally up to you how narrow your search results will be.
When you click the Add Criteria button, you'll see the dropdown list: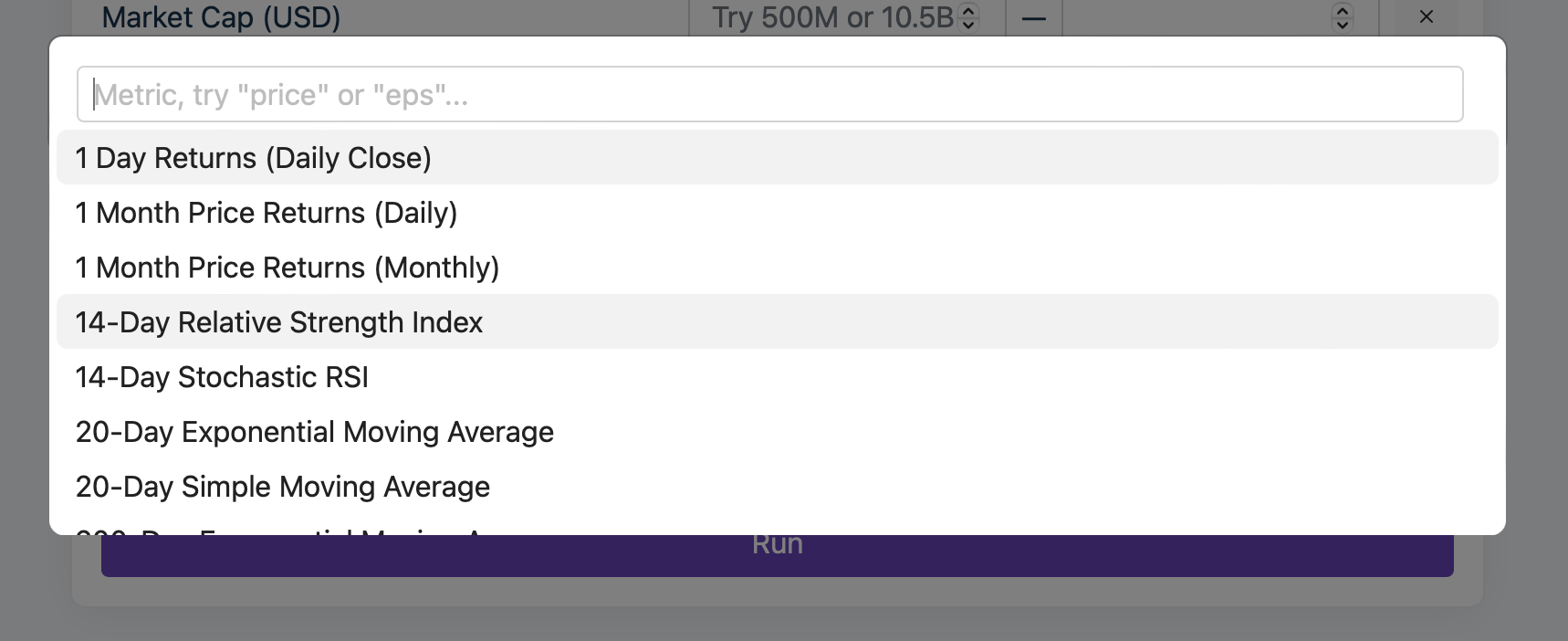 All criteria available (almost 500 of them) are sorted alphabetically. You can either browse them or type a few first letters of what you are looking for so our system can suggest the correct answer.
Let's suppose you are trying to find all companies with a Current Ratio higher than 1.1, so you're sure it has enough liquidity to survive at least a year (plus a 10% margin of error).
Type "current," and our system will display all indicators available: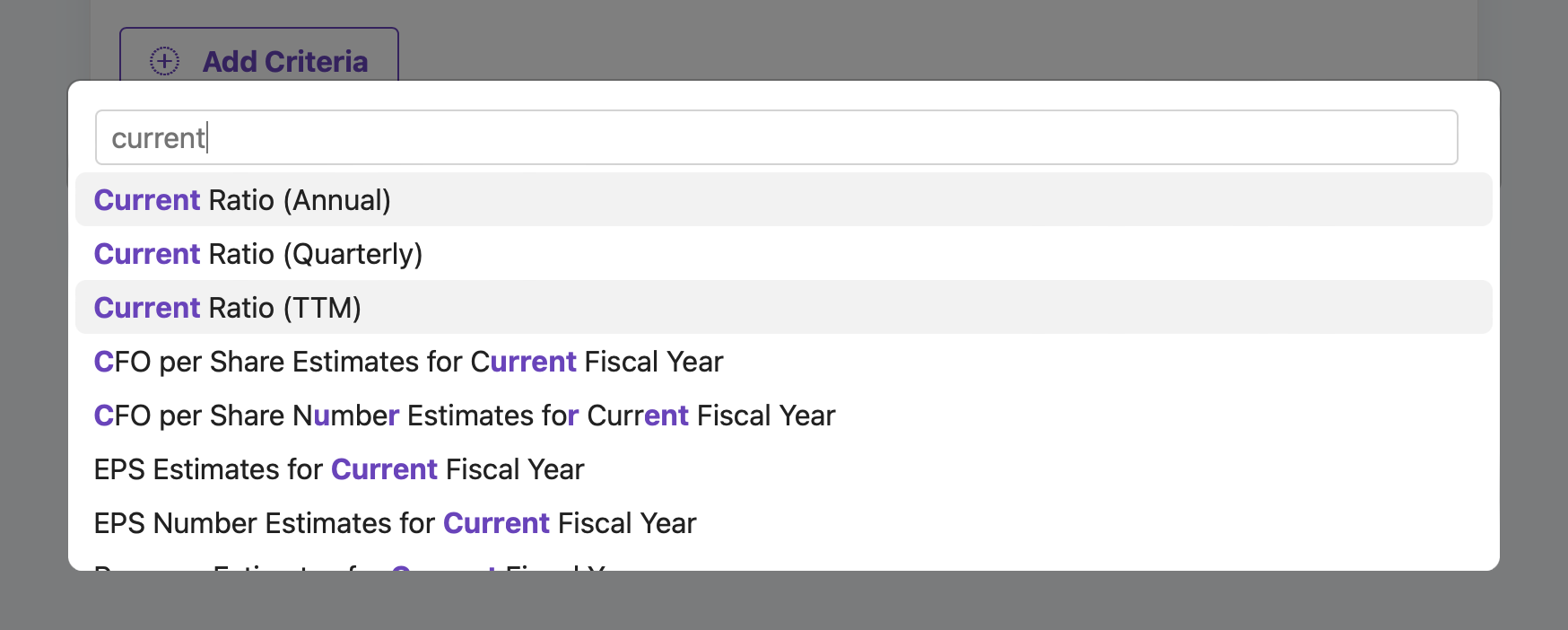 Let's choose the Current Ratio in the TTM version (twelve trailing months). That means we already have one short-term liquidity ratio indicator, so now let's add another one to take solvency into consideration (which is a bit longer-term variation of liquidity).
The popular ones compare the level of debt to some form of assets owned by the company. Here are a few examples:

Suppose we want to add the most popular Debt to Assets Ratio (just click on it).
Now it's time to fill in our criteria to tell the screener what exactly we are looking for in terms of liquidity and solvency. In the Current Ratio case, we want the current assets to be at least 10% higher than the current liabilities. Hence we set the minimum criteria to 1.1.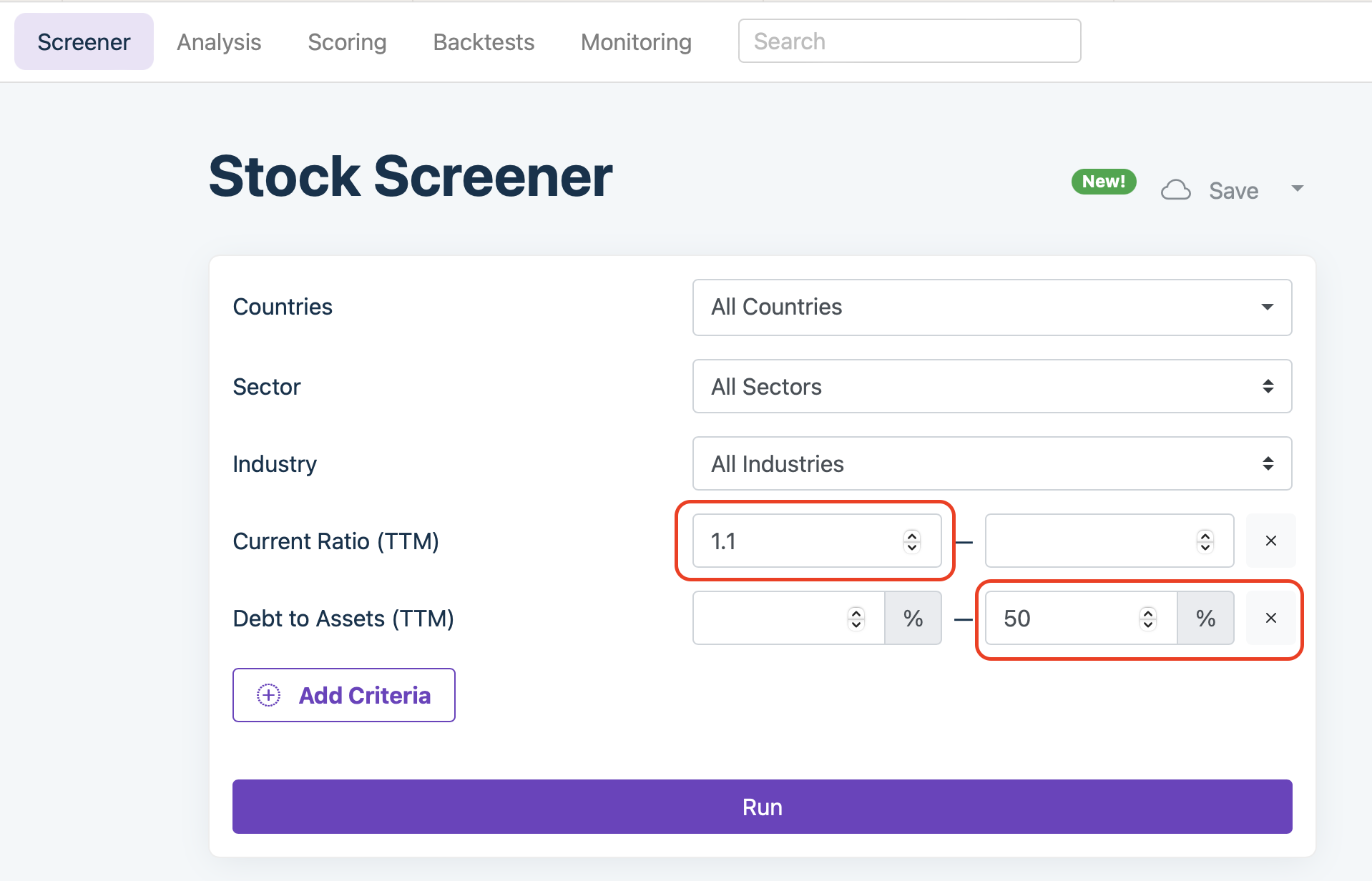 But as for the Debt to Assets, notice the "%" mark displayed at the end of the field. That means we need to type our desired value in the percentage format (that's inconsistent, we know, but these are the Wall Street standards, so we want to stick to them to avoid causing even more confusion).
Anyway, we might want to look for companies with relatively low total debt when compared to assets owned by the company. Let's suppose that the 50% threshold is our hard limit, which means we don't even want to look at companies with more than 0.50$ of debt for every 1$ of assets.
If these two parameters are sufficient for you, click "Run" and see all companies from over the world and from all industries that have both the Current Ratio higher than 1.1 and Debt to Assets lower than 50% simultaneously.
You will probably find a few thousand companies as a result, so it might be a good idea to make your criteria harder to be met by lowering the Debt to Assets to, i.e., 30% and leveling up the Current Ratio to, i.e., 1.5.
Otherwise, you can add a few more indicators as new additional criteria to narrow the results even further.
Check our predefined criteria that you can load to your screener if you need inspiration.