The Portfolio Backtests tool allows you to backtest your current portfolio in time to see how it behaves in the real world. It's also a good way to compare your portfolio against a benchmark or a different portfolio with different stocks (or even with the same stocks but altered weights). You can create multiple portfolios for backtesting purposes.
A portfolio can contain anything from only one to dozens of companies or ETFs. To create a new portfolio and fill it with stocks, go to the Backtests top menu, select the Portfolio Backtest tool, and click the New Portfolio button. You'll see this screen:

First, you should name your portfolio and feed it with tickers of stocks or ETFs you want to add. Type the tickers comma or space separated and press the Enter key on your keyboard. If you want to add tickers individually, you can search for a particular company by its name, select it from the list, and click Add button.
---
The second step is to set Rebalancing Frequency and Allocations.
Allocations are the way to determine how much of a particular stock you want to buy relating to other stocks. These might be set as equally weighted or weighted based on the profile risk of a company. You can also choose Target Weightes and provide fixed weights by yourself.
Most of the time, it's good to use equal weights because, in that case, the final results are not affected by the influence of different weighting methods unless the very thing you want to test is actually the weighting's method influence on the final results.
Rebalancing is the frequency based on which we will adjust your portfolio so the company's allocations match the desired weighting method. This is important because, after some time, due to the volatile nature of markets, some companies will rise, and some will fall, so after a few weeks or even days, your company's weights won't resemble the original guidelines. Rebalancing every month seems to be a good solution in most cases.
After adding companies and setting up the options, click Add, and you should see something like this: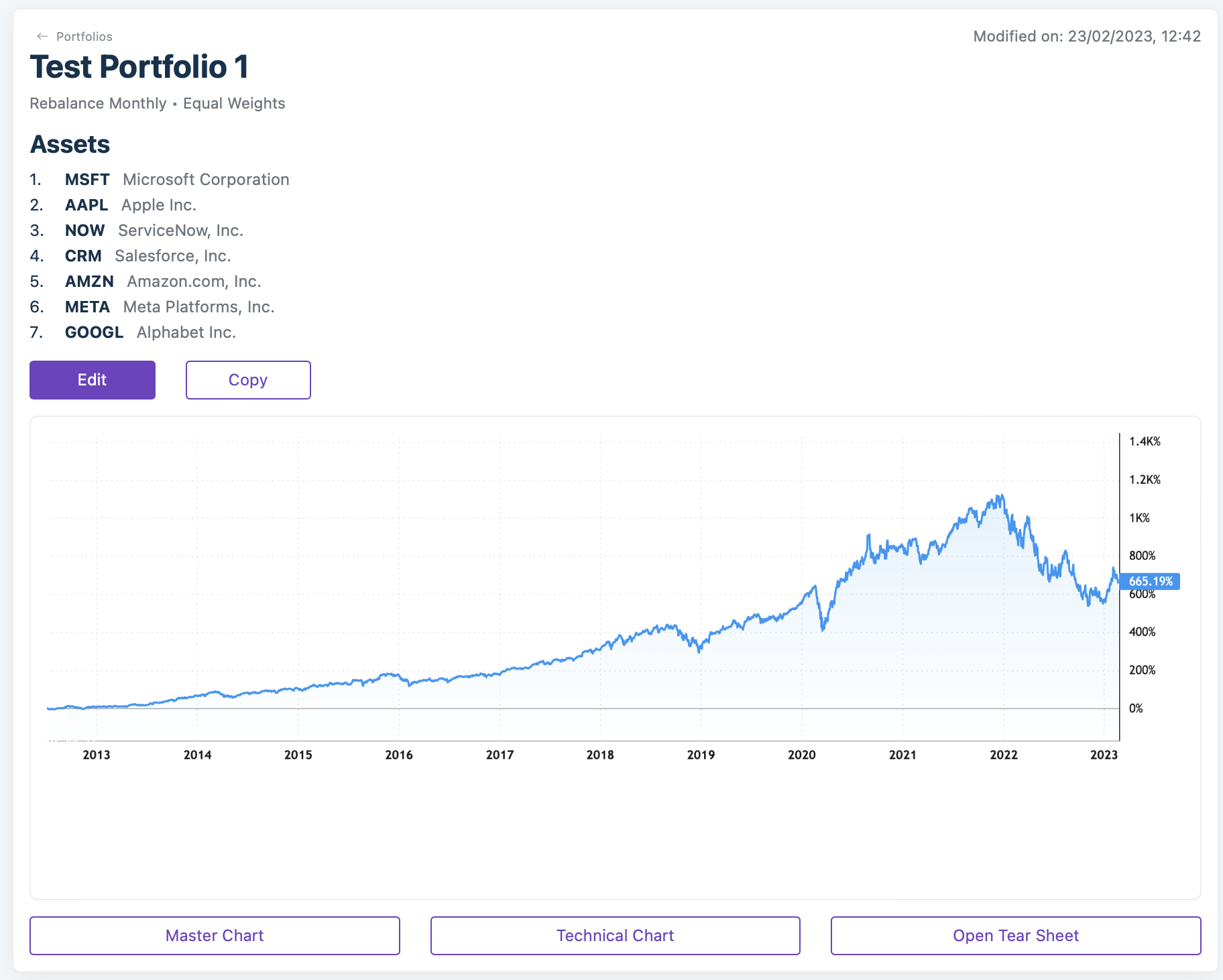 This is the exact visualization of your current portfolio's performance over the ten years.
---
Now you can do three things with that:
Open it in Master Chart to compare it with other assets or other portfolios during different periods
Open it in Technical Chart to conduct a technical analysis of that portfolio
Open Tear Sheet to see the details of your portfolio's behavior (annual, monthly, and total return; drawdowns and volatility; Sharp, Calmar, and Sortino ratios, etc.)
One more thing...
We advise you to carefully read the introduction to the backtests to fully understand the limitation of doing static portfolio backtests. Please refer to this article: How our backtests actually work?